Press releases
Dan Suzio Wins Writer of the Year, Best Travel Guide Awards
for Death Valley Photographer's Guide
Photographer and writer Dan Suzio has been honored by the Outdoor Writers Association of California (OWAC) in the 2012 Excellence in Craft Competition for his book, Death Valley Photographer's Guide: Where and how to get the best shots. Suzio's book was selected as the best travel guide of 2011, and he was named 2012 Writer of the Year, the highest award in the competition. The awards were announced at OWAC's annual conference in Morro Bay, California. more
Dan Suzio Wins Gold Award for Death Valley Photographer's Guide
Photographer and writer Dan Suzio has won a gold award from the North American Travel Journalists Association (NATJA) for his book Death Valley Photographer's Guide: Where and how to get the best shots. The annual awards competition, now in its 20th year, honors the best in travel writing, photography, and promotion, and this year received more than 500 submissions from around the world. more
A valuable resource for nature photographers
Wildlife photographer Dan Suzio has been shooting in Death Valley National Park for more than three decades, and for almost that long his friends have been asking his advice whenever they plan to visit the desert wilderness. Now the best of Suzio's advice is available to all in his new book ... more
About the author
Dan Suzio is a professional wildlife photographer with a special fondness for amphibians, reptiles, and the deserts of the American southwest. He is also known for his photos of the birds and other wildlife of Costa Rica, and of groundbreaking herpetological research in East Timor. He began photographing nature and wildlife more than forty years ago, and has continued refining his approach, always aiming for a simple composition that will capture the spirit of the individual as well as the species. He describes his work as that of a portrait photographer, using the same techniques of lighting, composition, and color to reveal a glimpse of each animal's "personality."
Suzio "has an astounding ability to capture natural situations and spontaneous action while also achieving the artistic composition, color, and sharpness of detail I associate with studio work," says Dan Rademacher, Editorial Director of Bay Nature magazine. Publisher, editor, and photo industry consultant Ann Guilfoyle says that Suzio's images "are marked by a deep fascination with his subject" and invite the viewer to "take a close, involved look."
Since 1978, Dan Suzio's photographs have appeared regularly in a wide variety of books, magazines, and natural history museums. His work can be seen and purchased online at www.DanSuzio.com, and is also represented by Science Source Images.
Photos
These photos may be published in the context of a review, announcement, or other listings, either in print or online. Please notify me of any uses. Thank you.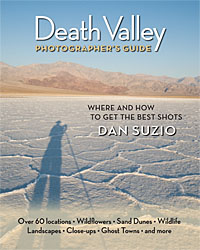 Front cover
Web thumbnail, 200x250 px, 150 kB
Print 2x2.5", 600x750 px, 500 kB
Print 4x5", 1200x1500 px, 1 MB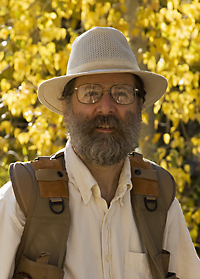 Author photo
Web thumbnail, 200x300 px, 150 kB
Print 2x3", 600x900 px, 300 kB
Print 4x6", 1200x1700 px, 1 MB
Sample pages
Review copies
Interested publications may
request a copy
for review.