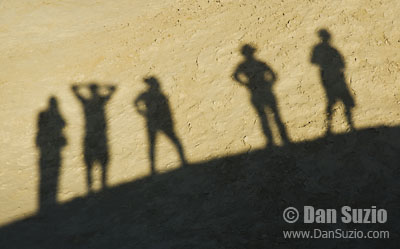 How to choose a photography workshop
With so many different workshops available, especially in a popular location like Death Valley, how do you choose the one that's right for you? Here are a few basic questions to keep in mind while making your decision.
Do you like the instructor's photography? You won't necessarily learn to shoot in the style of the instructor, nor will you always want to. But it helps to learn from someone whose work you admire. Do you want to work with a photographer who is known for deep, saturated colors? Stark black and white? Warm, friendly portraits (of animals or people)? Macro photography? Big, sweeping landscapes? Night photography?
What kinds of subjects will be covered? In Death Valley you'll find landscapes, wildlife, flowers, historic sites, rocks, canyons, sand dunes, and many other subjects, each of which could require specific techniques for photography.
How many different locations will you visit? Does the trip include just the obvious places – in Death Valley, that would be Zabriskie Point, Mesquite Flat, and Badwater – or will you discover new locations that you might not have found on your own?
How flexible is the itinerary? No matter how well you plan, sometimes the best light just isn't where you expect it to be. Will the group be willing and able to improvise and chase the light when Mother Nature isn't cooperating?
How big is the group, and how much individual instruction is offered? How much instruction do you need or want? You may just want to be shown the location and left alone, or you may want help with composition, lighting, or how to use some of your camera's advanced features.
Are you expected to have a specific type of equipment? A workshop may concentrate on shooting with large format film cameras, DSLRs, inexpensive point-and-shoot cameras, etc., or it may take a more generalized approach.
Will there be a critique of what you've shot? Some workshops try to maximize shooting time, while others include some time for participants to show their work and get feedback from the instructor and from each other. You can learn a lot this way, especially if there's a nightly critique – your photos will improve with each day of shooting. On the other hand, if you're confident about your skills and don't feel you need any help, you'll probably choose a trip that allows you to spend all your time shooting.
What's included in the cost? Some workshop fees cover only your participation, while others include meals, lodging, and transportation. Most are somewhere in between. This may seem obvious, but you need to check the details. An all-inclusive package may sound expensive, but could end up saving you money and/or headaches. Think about your priorities – would you rather make your own travel and hotel arrangements, or have someone else take care of them for you?
Is the workshop licensed and insured? Anyone leading a workshop in Death Valley (or any national park) is required to obtain a permit and show proof of liability insurance and first aid training. This is done to ensure the safety of workshop participants and other park visitors, and to protect the park's natural, historic, and prehistoric resources. It might not sound important at first, but if someone is injured, or if a camera or vehicle is damaged or stolen, permits and insurance could become very important very quickly. If a workshop leader tells you, "we stay under the radar," or, "if anyone asks, we're just a bunch of friends who decided to meet here" – you might want to think twice about joining that trip.
Above all, get references! You don't buy a new camera or lens without reading a few reviews first, so take the same approach to choosing a workshop. The instructor should be happy to provide you with a few names and email addresses of past participants, but don't stop there. Ask around – in online forums, on Facebook, in your local camera club, at your favorite camera store – wherever you normally go for advice about photography.